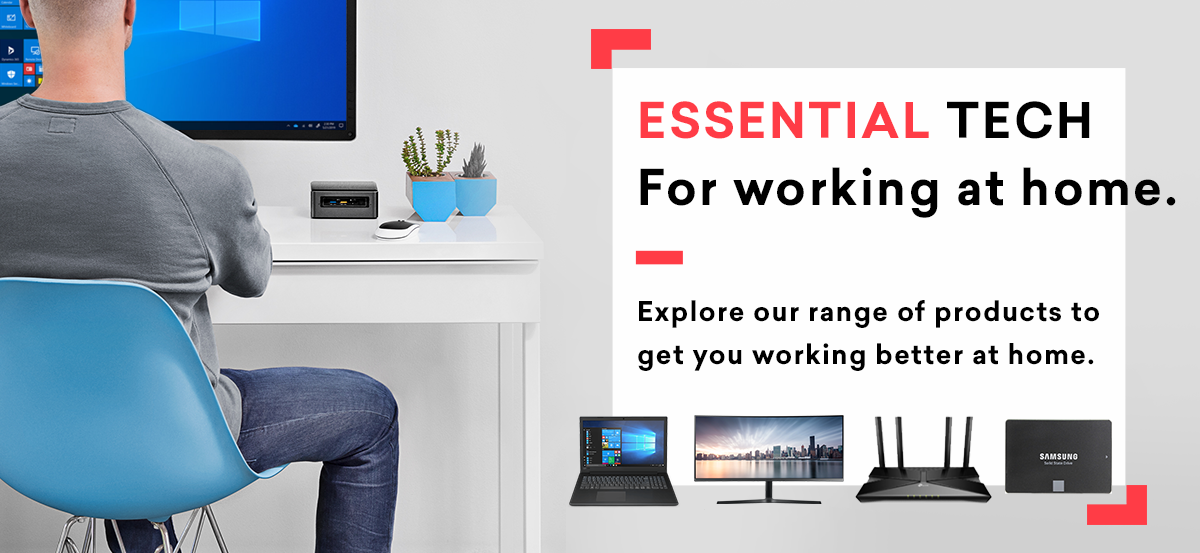 Work from Home Office Equipment
When you start to work from the comfort of your home, the first thing you realize is that your trusted laptop on the dining table just won't do. At the same time, it's easy to get drawn into a buying frenzy of stuff you really don't need, however we've put together the essentials guided by our tech team.
The key to fitting out your home office properly is value: buying only what you need and getting the best prices for them. At Shopping Express, we have all you need to transform your home into a functional home office space, that's not only productive but a space you can work from home from for a long time.
If you're feeling lost in options, not to worry, here is our professional guide to help you choose what is important in any home office, with of course the best deals from Shopping Express!
Home Office Essentials
When getting started with your home office, there is some equipment you simply cannot do without.
1. Desktop Monitor
If you think your tiny laptop will suffice for your long hours at home, you could be straining your eyes more than you know. The most obvious shortcoming from a small screen is that it forces you into a crouched position which can be bad on your back. Whether you're seated at a desk or outside under a tree, you are always looking down at the screen instead of at eye level.
A desktop monitor, on the other hand, sits atop your desk at eye level. That way, you can maintain a more natural posture without straining your back or neck. It also has the screen space you need for your projects and busy workload.
One of the best monitors to use would be the Dell UltraSharp U4919DW 49" Dual QHD IPS Curved Monitor as it has a sizable screen, which is basically two 27" 2560 x 1440 presentations sewed together.
However, its price tag may be a little steep for some, which is why the Samsung R650FDE 27" monitor is also a great affordable option. It's 1080p resolution is perfect for most tasks, and the fully adjustable stand allows you to customize its position to suit your eyes.
If you do want to continue using your laptop, though, a laptop stand is what you need. That way, you continue to utilize the small screen but at a safe distance and ergonomic position. For this, the Lenovo Dual Platform Notebook and Monitor Stand is perfect.
2. CPU
Once you have a good monitor, the next step is to have enough power to run it. A CPU is central to working at home, depending on the type of work you do. One of the ways to achieve a powerful system is to upgrade to the latest, most powerful processors.
If your main concern is affordability and standard functionality, the AMD Ryzen 5 will do. It has 6 cores and a total of 12 threads, which are designed for AM4 motherboards. It is built with Zen 2 architecture and has speeds of 3.6Ghz and a boosted clock speed of 4.2 GHz.
If your work is more demanding, you can upgrade your processor to the AMD Ryzen 7 with 8 cores, 3.6 GHz base clock speed, and a max speed of 4.4 GHz. It also has 32MB of L2 cache, 24 PCIe 4th-gen lanes, and supports 3200 MHz DDR4 RAM.
If you are more of an intel fan, you can opt for the latest core i7 or core i9 processors.
3. Keyboard and Mouse
A good keyboard is a staple part of any home office, as well as the mouse to go with it. This simple duo can impact your productivity a lot, which is why the Logitech MK220 Wireless Keyboard and Mouse Combo is the perfect combo for your workspace.
These two devices are highly reliable, have a long battery life, a long range 2.4GHz wireless connection, and a fully-featured functionality. The keyboard has all the standard keys, including a number pard, while the compact mouse also features a wheel for quick scrolling.
If you have a more refined taste, the Microsoft Wireless Comfort Desktop 5050 is the go-to option. It's highly ergonomic design with a palm rest is suitable for those who do a lot of fast typing, it can help prevent wrist strain.
4. Internet Gear
You can't work properly if your internet is lagging and slow. A top-of-the-range internet router such as the TP-Link Archer AX11000 AX11000 MU-MIMO Tri-Band WiFi 6 Router is what you need to get such concerns out of the way.
This strange-looking router with 8 antennas is a favorite with gamers and comes highly recommended by PCMag. Thanks to its blazing fast throughput, 4-Gigabit LAN ports, link aggregation, traffic and Quality of Service analyzer, and inbuilt protection (among other features), this expensive router leads the pack.
5. Bluetooth Headphones
In most cases, your work may be supplying you headphones to attend Zoom meetings, and online hangouts. If you need something reliable, Shopping express has the perfect pair of bluetooth headphones.
6. Chair
Everyone knows that a comfortable chair means you'll be able to be seated, working long and harder than ever before.It needs to have full back and lumbar support, adjustment options, swivel capability, and possibly support for your arms and headrest.
In other words, you need a proper desk chair. Our top pick for that is the Thermaltake Tt eSPORTS X COMFORT AIR Gaming Chair . Gaming chairs are like better office chairs, but far more comfortable owing to the many hours that gamers spend sitting. Which sounds perfect to any freelancer and office worker who cares about their long-term health and comfort.
7. Storage
Working at home can mean lots of files, media, and documents to store. That is why you need reliable storage as well as backup storage. Imagine if you lost all the work without backup, what would you tell your boss or clients?
That is where Network-Attached Storage, or NAS, can save your day. These are devices that connect to your home network and serve as your very own 'cloud' storage. That way, you have a backup of anything sensitive without the charges and security issues associated with real cloud backup.
A NAS is typically a purpose-built computer with a number of high-performance storage. One such example is the Seagate IronWolf SATA NAS Internal Hard Drive Series. This drive is available in a number of sizes from 2TB to 16TB. A typical NAS can hold 1-8 of these.
What makes it special is that it offers a spin speed of up to 7200 RPM, sustained read/write rates of up to 214 MB/s, and burst rates of up to 6GB/s. Also, it comes with the IronWolf Health array monitoring, rotational vibration sensors, and optional data rescue services.
8. Webcam
For those conference calls, social video calls, and chats with your co-workers, a webcam is indispensable. How else are you going to keep in touch with fellow humans if you're locked away in your home? Plus, you may have to do a presentation or hold a meeting, in which case you must have a good-quality webcam.
The Logitech C270 HD 720p Webcam is one of the best rated and most affordable options. With pan, tilt, and zoom controls, face tracking, and motion detection, it offers the best value for your money.
Or alternatively, why not get a monitor with a built in webcam? The Dell P2418HZM 24" Full HD IPS Business Monitor is an FHD business monitor that features a built-in 720p camera for video calls and a flexible screen for easy adjustments.
Useful Home Working Equipment
Here are a bunch of additional items that may be on the 'want' list not 'need' but nonetheless, make incredible 'extras' when it comes to creating your home office.
1. Dimmable LED Lighting
Now that you're working from home, you will inevitably need to pull a night shift or two. One of the most ignored factors is the quality of lighting. If you work in a completely dark room, the contrast between your lighted screen and darkened environment strains your eyes. However, many lights such as fluorescents have a high flicker rate, and are too bright for late nights.
This is where a dimmable bulb like the TP-Link KL130 Kasa Smart E27 Light Bulb comes in. It allows you to control the light intensity, warmth, and even color to suit the time of day. This particular model connects to your home WIFI through a 2.4GHz connection.
With just an app on your phone, you can control every aspect of your ambient lighting. Given that it a LED light, it only draws 10W of power and has no flicker, so that your eyes remain safe.
2. Headset
A webcam is no good if you can't communicate clearly. For some people, especially those who have a need for high-fidelity audio, a pair of quality headsets is necessary. The HP Omen X Mindframe Surround Sound 7.1 USB Gaming Headset is up to this task, thanks to adjustable mic monitoring and active ear cooling. How cool is that?
Add to that a universal USB connection, strong braided cable for strength, breathable foam and PU leatherette material, as well as a 95dB sensitivity and unidirectional noise-cancelling microphone
If you want something more professional, the Plantronics CS540 Wireless Headset 84693-03 might be perfect for you.
3. Dedicated IP Phone
If you prefer the traditional office phone or your job demands it, the Polycom CX300 R2 USB IP Desktop Phone is perfect for you. It offers superb voice quality and can work on both VoIP and traditional phone connections. Plus, a USB plug-and-play to your computer makes it very easy to set up and use.
4. Surge Protector
While this should have been in the 'essentials' section, some people don't take the safety of their expensive stuff seriously enough. The CyberPower 8 Port Surge Protector helps to keep your electronics safe from most electrical malfunctions.
It offers overload protection, EMI and RFI filtration to reduce noise, and comes with dust protection. With its keyhole sockets, it is perfect for high-sensitivity electronics such as IT equipment and home theatre systems.
Working From Home Guide
Working from home isn't just about having the right equipment. Here are a few more tips to help you work better from home.
Have a dedicated home office separate from the rest of the house. If you have a family, the only way to avoid distractions is to have a separate room with a lockable door.

Have a routine. Pacing yourself is hard if you don't divide up your time and tasks into manageable chunks.

Keep in touch with humans. Working from home denies you the all-important human touch. Make sure to get out of the house now and then. If that is not possible, keep in touch with co-workers through video calls and other high-fidelity communications.

Be disciplined. People tend to think of working from home as a chance to rest and relax, but that is not so. If you are not disciplined, your productivity will plummet no matter how much expensive tech you have.

Take care of yourself. Eat healthy, sleep well, relax often, take many showers, and dress up! Many home workers tend to forget that burnout is real and keep pushing too hard.
Conclusion
Working from home has never been easier, thanks to all the technology available today. With the right remote working equipment, software, and skills, you can be much more productive in your home workspace than you ever have been in the office. Visit Shopping Express Australia to pick up everything you need to successfully work from home.